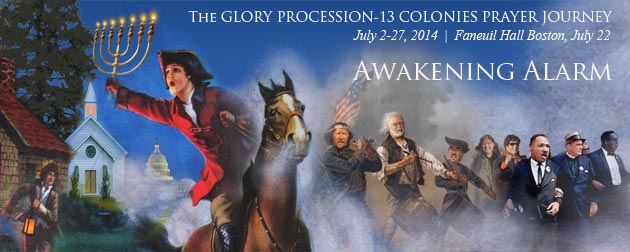 TODAY! GLORY PROCESSION METRO DC!
SAT 1PM-4PM, 7-10 | SUN 10:30-12:30
Whole Word Fellowship/ The Gate
10922 Vale Road, Oakton VA
DEAR FRIENDS, Jolene and I are so excited to invite you to the "Glory Procession" convergence. What a time to engage heaven's heart for metro DC and the mid-Atlantic region! In this season of governmental shaking, God is unveiling His unshakeable throne. And together we are receiving unprecedented breakthroughs.
An incredible team is gathering for the metro DC meetings. Each is a recognized leader with vital prophetic insight that will help you gain understanding and propel you towards your destiny in Jesus Christ.
13 Colonies Prayer Journey
Our Glory Procession gathering is part of a special "13 colonies prayer journey." From July 2-27, we are traversing the geographic east gate of our nation, ministering in each of the 13 original colonies and engaging the Lord for His glory to be restored. Because the time has finally come for a new move of His Spirit on the east coast! As Chuck Pierce recently prophesied, "Get ready for the gates of the east coast to open and align…"
We are following the footsteps of our friends Rick and Patti Ridings, who are praying from Jerusalem for the Glory Procession. The Ridings made the original "13 Colonies Prayer Journey" more than a decade ago, perceiving then that a new move of Holy Spirit awakening is coming. Significantly, they felt this summer's "Glory Procession" is somehow signaling a fuller release of this move.
In 2012, the Ridings prophesied in DC about a "Crown and Throne movement" God is releasing as part of this emerging awakening. Our focus for this gathering is to step into His new move!
Itinerary updates at www.lamplighterministries.net.
Postings updates at www.jonhamill.wordpress.com