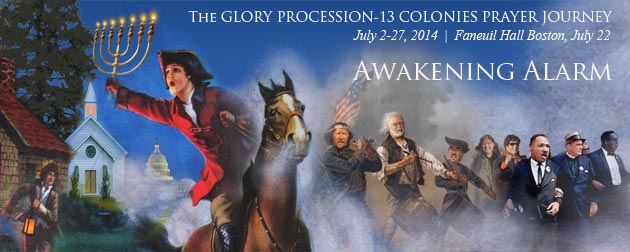 KING'S KIDS— JUSTICE MOVEMENT IS NOW RELEASED!
With Insights on Ferguson by Chuck Pierce
We can all praise God that there was no violence last night in Ferguson. Our prayer call was so encouraging. One of the most important things I felt the Lord saying is that His new justice movement is now being released, especially into the African American community nationwide.
In a moment I'm going to share a prophetic dream about this new move, which I've been holding close to my heart for a decade. In other words, I've shared this privately with friends, but not publicly. But first…
Countering Today's 'Day of Rage'
I want to encourage you to watch and pray today. Several websites have warned about a nationwide "Day of Rage," with rallies planned in cities across the nation this evening. I do feel a measure of breakthrough has been gained, so lets not pray in fear but in faith. But we have seen "Isis" flags ominously flashed everywhere from the streets of Ferguson to the White House lawn, and my sense is that Islamist terrorists have been seeking a way to capitalize on expressions of rage and lawlessness to actually strike our land. I do believe this present crisis has been abated, but lets remain vigilant in our watch!
Identifying the Roots of Injustice
This June, Chuck Pierce prophesied about the crisis in St. Louis now unfolding before the world. Our friend James Nesbit convened a Quantum worship gathering where Chuck accurately declared, "This day and this area becomes a dividing point for the nation!"
Here's more of Chuck's word. "I saw a pirate with the one eye patch. This pirate was an evil watcher for this entire nation, and he was positioned here. God began to use our sound to sew up his eye. The Lord began to speak by His Spirit to me: FROM THIS PORTAL I HAVE BEEN WAITING TO STOP THE WATCHING POWER OF THE ENEMY. For in this land that you know as America, this is the place that the eye and evil of mammon was formed. 
You have caused that eye to suffer, but from this place you are beginning to sew shut that which the enemy is doing to watch the movement of the supply lines of this land. As you resound, I AM beginning to do things here for a nation that can only be done here. THIS WILL NOW BECOME THE DIVIDING LINE OF A NATION. THIS DAY AND THIS AREA BECOMES A DIVIDING POINT FOR A NATION.
Note that pirates illegally claim what is not really theirs. According to Chuck, this force was enthroned over St. Louis, watching over the supply lines of the nation.
Could it be that the response of the black community to the shooting of Michael Brown actually has roots in a true perception of injustice? And if so, could it be that many are responding in the natural to a force in the spirit that has robbed them and held them in subjugation? 
And if so—how can we see God's justice fully released?
Justice—My Kingdom Will Prevail!
I want to draw your attention to another significant word released by Chuck Pierce, released yesterday. He prophesied that "This is the day of turning the battle at the gate. THE COURT HAS BEEN SEATED AND JUDGMENT HAS BEEN RENDERED IN FAVOR OF THE REMNANT. El Gibbor is standing at the gate, to strengthen those who turn the battle. For the refuge of lies will be swept away where the new cornerstone is going to be laid, and MY KINGDOM WILL PREVAIL where those who had taken refuge in works of darkness are uncovered and exposed."
To summarize—God has rendered judgment against thrones of injustice, in favor of the remnant. We saw this in a huge way on 7-22 at Faneuil Hall. And Chuck is saying that El Gibbor, the God of armies, is now standing up to strengthen His people and turn the battle at the gate. From Isaiah 28:6—"In that day the Lord of hosts will become… a spirit of justice to those who sit in judgment, and a strength to those who repel the onslaught at the gate."
Beloved, this word is for you, right now! I do believe that the Lord is now releasing a new justice movement. And I believe also He is granting renewed strength to repel the onslaught at the gates of our nation. Let me share with you the prophetic dream about this justice movement which He is now activating at this time.
KING'S KIDS: A NEW JUSTICE MOVEMENT IS BEING RELEASED
Back in 2004 the Lord gave me a dream—about a man who had a dream for our nation. In it, Martin Luther King and his wife Coretta actually hired me to mentor their kids in prayer. Our contract was similar to hiring someone to teach piano, or mentor their kids in math.
In the dream, every week I would journey across town to their apartment. Martin and Coretta would leave for a date while I spent a few hours mentoring their children. Then they would return, debrief, hand me a check, and I would be on my way.
One week, pouring rain pounded the streets of the city. My car broke down, so I actually had to walk through the rain to keep my appointment across town. And when my mentoring appointment with King's kids had ended, Martin and Coretta were so appreciative that they actually paid me double. In the dream, I was undone. Then they laid hands on me, praying for me from their mantle, literally releasing the King's blessing.
This dream is so personal that I have kept quiet about it for a decade, processing it only with my wife Jolene, with my friend Will Ford and a few others. But from this dream I knew a day would come when the Lord would summon many, ourselves included, to mentor King's kids in "justice prayer." 
Passover—Commissioning the "Kings Kids" Movement
For me personally, the commission and activation of this "King's Kids" movement was actually over Passover this year, in Sierra Leone Africa. Unexpectedly, the Spirit of God directed my entire ministry in this precious nation to accessing the Courts of Heaven and releasing His justice. And when I prayed about this, the Lord responded to me by "flashing" the "King's Kids" dream before me again. Without my even being aware, the Spirit of God was already mentoring His people in a new justice movement.
A new generation of "King's Kids" is being called forth by the Lord. These forerunners carry a cry for justice within their very beings. Generations of injustice will be met with inescapable verdicts from God's throne. And the world will soon be turned upside down by their exploits in the Lord!
But first, this generation of King's kids needs mentoring. These trailblazers must be equipped to explore the ways of God's justice, and tempered to become catalysts by which His true justice is released in the earth. For a decade, I've known this is part of our calling. And as a watchman in the land, I have been waiting for the Lord to signal that it's now time for God's release. Beloved, THE TIME HAS NOW COME.
Our new book Crown and Throne has been written to mentor and equip you in the ways of God's justice. Please consider obtaining a copy for yourself.