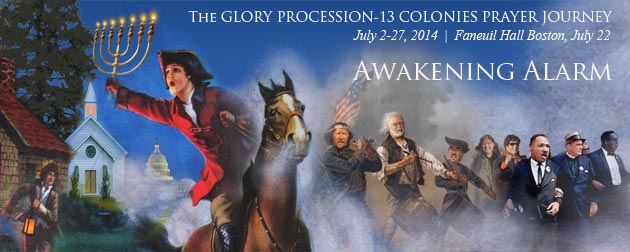 VENUE CHANGE—GLORY PROCESSION TONIGHT!
7pm, Abundant Life Church
20488 Donovans Road, Georgetown DE 
CULMINATION IN JAMESTOWN JULY 25-27!
History has been made. Our nation has turned! And a new move of God has officially been commissioned
The last two days have been extraordinary. We are so grateful for your prayers! Experiencing God's response very tangibly. Time has not permitted me to share as I have wanted with you. I look forward to communicating much more in future postings, once the pace slows down.
But I can say with full confidence that judgment has been rendered in favor of the saints. The 7-22 gathering at Faneuil Hall was charged with the presence of Holy Spirit. The case was presented during the afternoon session, and the verdict was decreed by Chuck Pierce, Dutch Sheets, Gary Beaton, Linda Clark, really by all of us. The general consensus was "Return to the New." We were led to the very "womb of revolution" to birth and commission a new move of God that will be equally revolutionary in scope and impact!
Then yesterday in Trenton we entered into the breakthrough—the turning point of this revolution. Again, I will post much more on this as soon as time permits. But Revelation 19:11 shows how Jesus judges, and then makes war to enforce His judgement. On 7-22, God convened us together to hold court and render His verdict. On 7-23, at the place where tide of the Revolution turned in favor of the 13 Colonies, we saw the Lord enter the battle for this nation in a whole new way.
The Lord spoke to me about New Jersey that the state is "the neck that turns the head." I can only say, the gates of New Jersey were lifted up last night—and the Lord of hosts entered!
Hard to believe we are entering into our final few days of the Glory Procession. If you're anywhere near, don't miss tonight or the culmination in Jamestown! Covenant blessings to each of you. And welcome to your new season!
"Until the Ancient of Days came, and judgment was passed in favor of the saints of the Highest One, and the time arrived for the saints to possess the Kingdom" (Daniel 7:22).