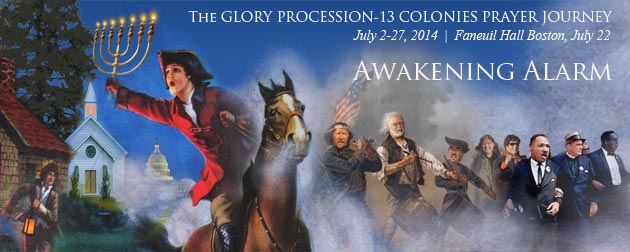 Prayer Call Wednesday Evening! 9PM EST. Conference call number: 805-399-1200 access code 552-690. Use *6 to mute/unmute. Invite your friends to join us
GLORY PROCESSION TONIGHT! 7pm, Faith Assembly Summerville SC. Don't miss!
Schedule: Dunn, NC—7pm Heritage Bible College
Fredericksburg VA—7pm The Prayer Furnace
Washington DC—7 pm Justice House of Prayer, Washington DC 
METRO DC GLORY PROCESSION
July 12-13, beginning 1pm Saturday, The Gate/ Whole Word Fellowship, Fairfax VA. With Matt Lockett, Jason Hershey, Jamie Fitt, Summer Ingram, Sheryl Price and other key leaders and prophetic voices across the mid-Atlantic region. Special hotel rate $39.95 at Hilton Garden Inn, Fairfax VA. Make plans now!
APPEAL TO HEAVEN—FANEUIL HALL BOSTON
Faneuil Hall gathering with Chuck Pierce and Dutch Sheets July 22. More info at www.lamplighterministries.net
This Glory Procession has been amazing. We saw covenant repaired with the Lord profoundly repaired to start our journey in Jacksonville. Then in the "Re-Constitution State" of Georgia, we literally stepped into His new move of awakening. I cannot describe it except that there was an unexpected moment where Holy Spirit met us powerfully and released His Glory into our midst. From that point on, the breakthroughs we saw became heightened. The Georgia Awakening has begun!
Last night I had the great honor of sharing on 07-07-14, the seventh anniversary of the Call Nashville where the "procession" to divorce Baal and remarry the Lord Jesus Christ was launched. Profound that the Lord chose Charleston SC as the "gate" to prophesy His word. The next phase of His move has begun! Hosea 2:21-22 is the key… check it out.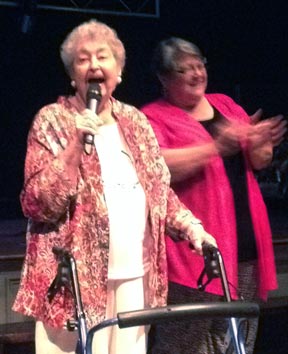 Vision of 13 Colonies Blazing!
We had a very revelatory service last night. HAPN/RPN leader Frank Segnius asked Pitts Evans to share a spiritual overview of South Carolina's history. Pitts, the pastor of Whole Word Fellowship in Fairfax VA, is from Charleston, and much of his early work became a template for breakthrough here to this day.
Our new friend Shirley Rowe, an 86 year-old firebrand intercessor, shared a vision last night. I was unclear as to whether she received it directly from Holy Spirit or through another, but by virtue of her intercession all these years to birth this vision, it was most definitely hers.
In 1980, the Lord showed a fireball hitting Florida, then literally blazing through the 13 Colonies. Amazing! Shirley specifically referred to the 13 colonies, not the east coast. She felt this Glory Procession represented the very vision she had been praying into FOR 24 YEARS!
God is restoring His glory. Truly is now time to step into this move of Holy Spirit awakening!
Proclamations for Each State
Friends your prayers are preparing the way! Please keep us and the states we are visiting before the Throne. Before we started this Glory Procession, the Lord gave me a prophetic phrase for each state we are visiting. I thought I'd share them so you could be praying with this focus as well. The declarations are below. If you receive fresh revelation on these, please write your comments below this posting on our WordPress site—jonhamill.wordpress.com
FLORIDA: THE COVENANT THRONE
GEORGIA: THE RE-CONSTITUTION STATE
SOUTH CAROLINA: SHILOH'S SCEPTER
NORTH CAROLINA: REFUGE AND REVIVAL
VIRGINIA: THE FREEDOM ANTHEM 
WASHINGTON DC: BURNING LAMP AWAKENING
MARYLAND: WOMB OF THE DAWN
PENNSYLVANIA: THE FREEDOM SEED
NEW YORK: CROWN AND THRONE CONVERGENCE
NEW HAMPSHIRE/ VT: THE END-RUN REVIVAL
CONNECTICUT: THE VOICE OF AWAKENING
RHODE ISLAND: THE LIBERTY COALITION
MASSACHUSETTS: SPIRIT OF REVOLUTION
NEW JERSEY: THE NECK THAT TURNS THE HEAD
DELAWARE: THE GLORY GATE